The three members of PROJEKT:ANTARKTIS Tim, Dennis and Michael are known for their unconventional approach to things through their film of the same name. In 2018, they set off to Antarctica to shoot a feature film there and fulfill their dream. The three twenty-somethings only learned how it worked to travel to one of the most deserted places on earth and make a feature film there when they were long on the road. Just do it and don't think about it is the motto of the three. The result has not become a classic documentary, but more of a metafilm about the undertaking itself, about the learning process and the complications during the shoot. "We just show what is happening," Tim tells us in the interview. "Even  the setbacks and the moments when it didn't work perfectly. The film should be honest."
With this adventure and its special form of presentation, which was shown in cinemas throughout Germany and Austria and is now available on most streaming platforms, Tim, Dennis and Michael have been able to inspire many people to follow their example and chase their own dreams. Adventurous as well as creative projects were created in the process. "It was really nice to see that we actually reached people who then started their own business or cycled around the world because of us."
"It is a small ART revolution!"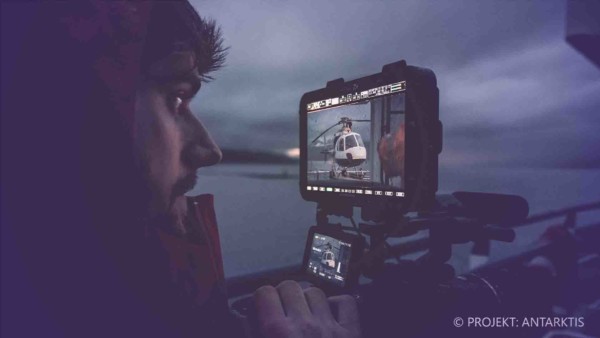 With the new project, the three have something similar in mind again. This time, however, not in remote places around the world, but in the digital spheres of blockchain technology.
As the first movie scenes worldwide, a total of six selected scenes from the film Project: Antarctica are currently up for auction on a marketplace for NFT art.
In doing so, they want to raise awareness of the technology the three are so passionate about: "It's a little art revolution going on right now. Away from a world of worthless copies to a world of appreciation and uniqueness of creative, digital products."
Who OWNS The Mona Lisa?
Just recently, we reported on the topic of NFT-Art, focusing more on the investment hype that is currently accompanying this phenomenon and making headlines. For Tim, however, it's more the other end and the opportunities for creators that are emerging here that are interesting. Non fungible tokens, or NFTs for short, can be understood as digital property rights that can give digital art a fixed value and strengthen the role of the originators.
"Anyone can take a photo of the Mona Lisa. But that doesn't mean that the artwork then belongs to the person. And that's exactly how it is with NFTs. Theoretically, anyone can download the file, but the right of ownership is clearly regulated. A token, i.e. a section in the blockchain, is auctioned off, which exists only once and is transferred to one's own wallet, where it proves the right of ownership."
The Mass instead of niches
With the business models of Spotify, YouTube & Co., artists are dependent on enormously high click numbers in order to be able to live from their own art. Accordingly, many try to produce their content in such a way that it can also generate these clicks; ergo: to please the masses. Tim sees a big problem here, because artists who work in a niche cannot make a living from it, and such a niche is therefore served less. With NFT-Art, it's different:
"It can be enough that only a few people think a niche is great and collect the stuff from an* artist* so that they can make a living from it and keep going. This is an important thing that changes a lot for artists. That's why we want to push this and have produced the world's first feature film scenes as NFTs."
Six scenes are up for bid; all unique in the NFT sense and each with its own artwork, creating entirely new products. In addition, buyers will receive a physical print of the artwork with a QR code that can be used to call up the purchased work – in other words, a material point of reference for what only exists digitally.
OF COURSE ONLY Sustainable NFTs
Blockchain technology is currently under a lot of criticism because it consumes enormous amounts of energy, which is not particularly conducive to the climate crisis. Tim tells us that while this is true for the largest blockchain networks such as Bitcoin and Ethereum, it is not generally the case. This is because energy consumption depends on the process by which new blocks are injected into the blockchain in the event of a transaction, known as minting. Bitcoin and Ethereum consume enormous amounts of energy here through the Proof of Work (PoW) process, as a competition takes place here that can be won with computing power, so to speak.
For Tim, Dennis and Michael, sustainability is an important issue, so this method was out of the question. Instead, they chose AtomicHub as the platform and WAX as the blockchain, using the alternative and sustainable Proof of Stake (PoS) process. Here, a weighted random process is used upfront to select who gets to generate the block, so there's little need to expend additional energy. Antarctica likes it.
Motivation fOr The creative industry
PROJEKT:ANTARKTIS is not primarily concerned with the money earned from the auction, but with advancing the technology and its possibilities for the art and creative industries. This is why the sustainability aspect is so important to them, as it makes the technology sustainable. With their auctions, they want to motivate other creative professionals to also enter this field and use sustainable platforms. They currently even have the advantage of being cheaper, which is particularly suitable for newcomers.
"In order for an artwork to be listed on a platform, a gas fee has to be paid, which can cost up to 300€ on Ethereum due to the necessary computing power. That's a big hurdle for artists* who can't estimate whether they'll get that back in through sales. Platforms like AtomicHub or GhostMarket are much cheaper and more exciting, where the minting process costs very little. We ended up paying about €20; including failed attempts that we deleted again."
"Digital Form of the TRUTH"
Countless copies of digital artworks circulate through the web in endless loops, resting briefly as banners on a Facebook profile or being chased as memes through the world's WhatsApp groups and from there shifted into the paper baskets of the end devices. There is no trace of the originators. In an NFT, the originators always keep track of their artwork and know whether it is being shown in a gallery, placed in an investment portfolio, or simply destroyed.
In the blockchain and the NFT marketplaces, the access restrictions and gatekeepers that are structurally anchored in almost all areas of the creative industries such as galleries, auction houses, labels, publishers, and many more, which decide who can participate and make money and who cannot, largely disappear. But the solution of one is the curse of the other. In the digital world, everyone is allowed to participate, but no one has really been able to earn money. For consumers, it has hardly been possible to support artists and collect digital art.
For Tim, blockchain technology is a digital form of truth and it's high time that the creative industry adopts it.
You can find the auction here.